A "fly brake", or hydraulic handbrake's purpose is to lock up, or at least brake loose, the rear wheels of an off-road car to assist in turning hard when there's not enough wheel lock (or space) to manage it with the steering wheel alone.
A hydraulic handbrake is not for stopping a car and shouldn't be used tohold a parked car for long periods, but can be used in tandem with a mechanical handbrake if desired.

In essence, a handbrake cylinder is a remote brake or clutch master cylinder. It has an inlet and an outlet, but instead of having a remote fluid reservoir feeding the inlet, it is simply plumbed, in-line, into the car's rear brake line and the inlet is fed from the car's regular master cylinder.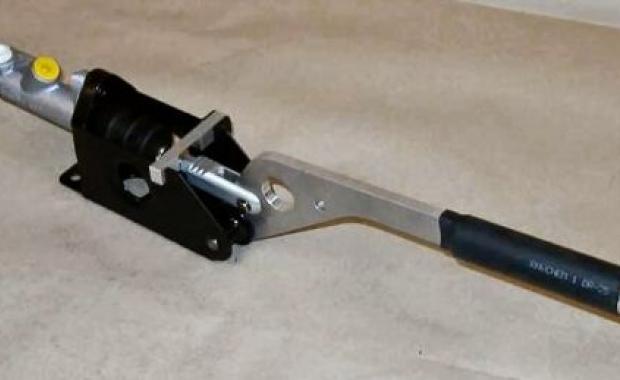 The single rear brake line (not suitable for diagonally split systems) from the car's master cylinder is cut and plumbed into the front port (yellow, above) in the handbrake cylinder and the rear section of the rear brake line (to the rear wheels) is then plumbed into the rear port (white, above).
Cylinder bore diameter is not too critical; a common .75″ cylinder is perfectly adequate. A clutch master cylinder from a Mk 2 or Mk 2a Land Rover would be ideal, though remote master cylinders are available from brake shops and retailers almost everywhere nowadays.
In operation, the handbrake lever is pulled up and the piston within the handbrake cylinder immediately closes the line from the car's normal master cylinder, which prevents the master cylinder being pressurised.
Once the line to the master cylinder is closed off, the handbrake piston continues to move, applying pressure only to the rear brakes.
The handbrake cylinder should be bled prior to bleeding the rear brakes by pressing on the brake pedal and pumping the handbrake to move any trapped air rearwards.